Today was my first second visit to our stream in Germany. 
The stream had been open just a week now and we wondered if we could get any fish to bite so early in the year. 
We made our usual pit stop at the bakery along the way for coffee and cheese bread.
Our starting point was a location where we had not fished for over a year. 
It was overcast and light rain fell, the stream looked good with clear water.
We would fish for an hour and return to the car for a coffee break to discuss the fishing. 
The water looked good but fish could not be located.
A heron at the waters edge however was an obvious sign that something was going on.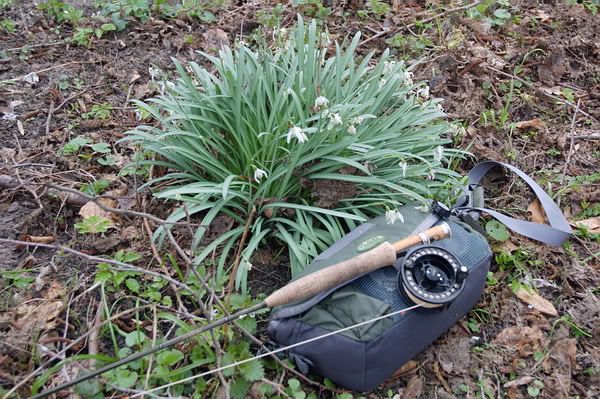 Snowdrop

My fishingbuddy had other commitments later in the day so our time was limited.
The next stop would be way upstream in a small village.
From past experience we knew that we would have the chance to get some shiners on nymphs if we where lucky.
The stream was very small up there so fishing was limited to the deeper pools that formed in bends or near trees.
I fished a nymph deep through the pool but nothing happened.
My buddy decided he would fish the same pool with a streamer.
That streamer was actually made from some everglow tubing I gave him recently in preparation for an upcoming searun brown fishing trip to the Baltic sea in Denmark.
That streamer was the ticket to success because in a minute a rainbow trout shot up from the pool to nail the streamer.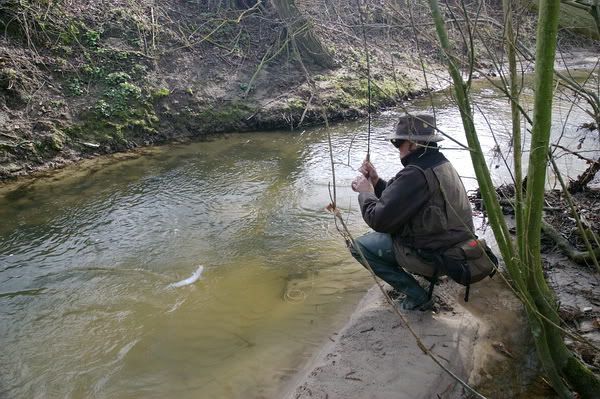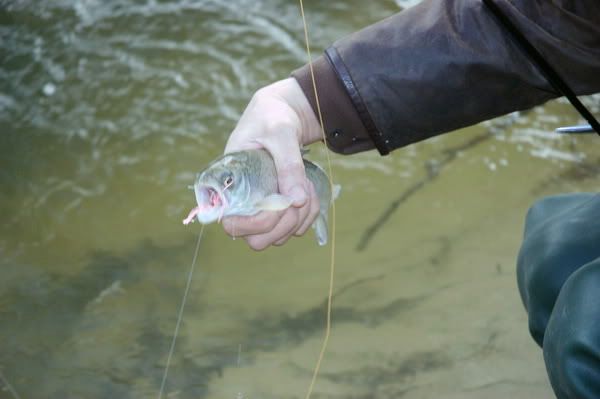 Joop with rainbow

So it was goodbye to the nymph and the so called "Flammen" was tied on.
At the next pool It was obvious that this was the right choice since I immediately had a fish following the streamer.
Over the next hour I had fish after fish attacking the streamer. Most fish managed to shake the hook but at least two stayed connected.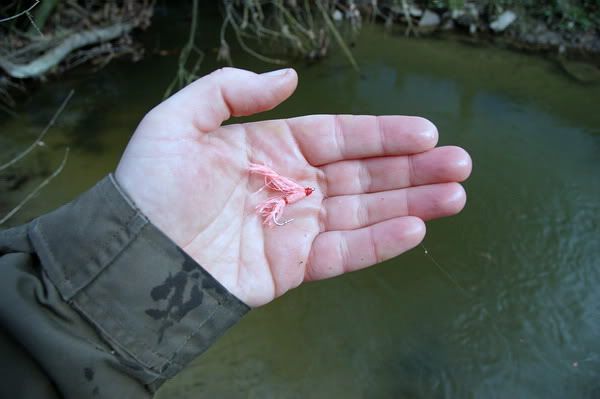 Add water, add a flammen and voila, rainbow trout.

Since all the trout had an uniform size it was obvious that the place had been stocked recently.
The trout where not big but with the light trout bum rod I had a blast catching them.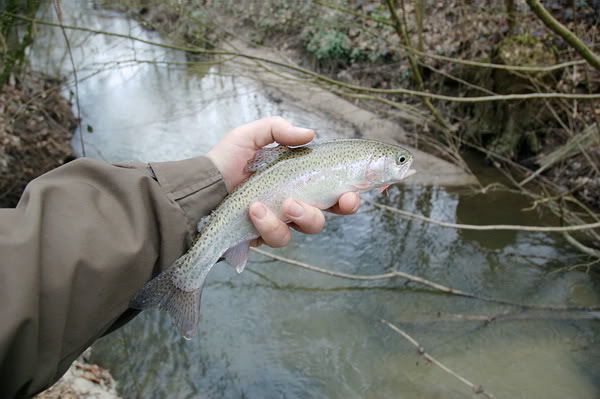 Rainbow trout

I wondered how far up the trout where located.
Our little stream originated at the junction of two even smaller streams just a short walk ahead so I went fishing the feeders.
Even there I had various hits at places where any fisherman I know would not even think to fish because it looks so shallow and fishless.
We had a field day with the trout, we can use more of such days.