Rainbow trout – Möhne river Germany – July 27th. 2008
Rainbow trout – Möhne river Germany – July 27th. 2008
Last Sunday I went fishing with fellow flyfisherman Wiebe and Thomas.
We had purchased a half day ticket to fish the Möhne river above the Möhne reservoir in Germany's Sauerland region.
When we drove into the valley of the reservoir thunderclouds in the distance where not a good omen.
A few days before our trip some parts of the region had received twice the amount of the monthly rainfall in one day.
Although I had checked flow and water levels of the river at the website of the online measuring station
(which looked good) my first look at the river killed my hope of catching fish.
The water was high, brown and murky – obviously it hat rained pretty hard somewhere.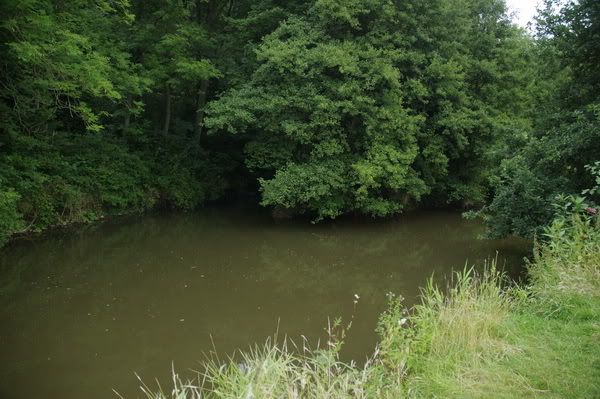 High and murky water

The thunderclouds moved away so it stayed dry during the day.
The downside was that it was terribly hot and humid, I almost felt like I was somewhere in SW Florida.
With all the high water the only sensible thing to do was to fish the deep canalised stretch of
the river in front of the watermill in Niederbergheim.
These conditions called for crude tactics so I tied on an extra superfast sinking polyleader and
a white conehead woolly bugger.
After a few casts this tactics yielded my first little rainbow trout to the surface, a very important
moment since getting skunked was avoided now.



Nr. 1 Rainbow trout

The woolly buggers moment of glory was short lived though because whatever I tried I would
not get a second hit on that fly.
My buddy Thomas however had tied on his secret weapon, a small weighted green nymph.
He was catching one after another rainbow, while I was helping him with the netting of the fish
I remarked that his actions cost me valuable fishingtime.
In return for my help he gave me one of his little green nymphs so I was back in action again.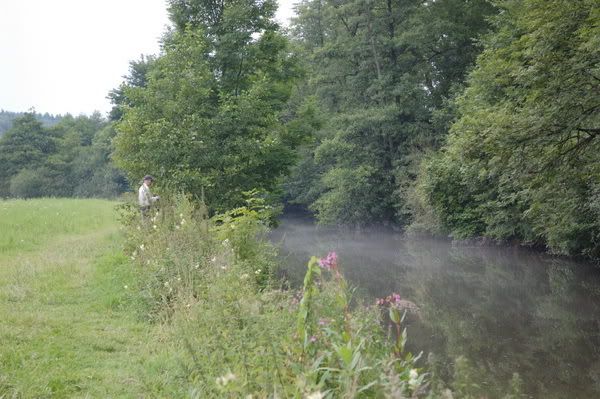 Thomas in action

That little green nymph really made a difference since pretty soon I got my first takes.
By some sort of miracle I was starting to catch fish.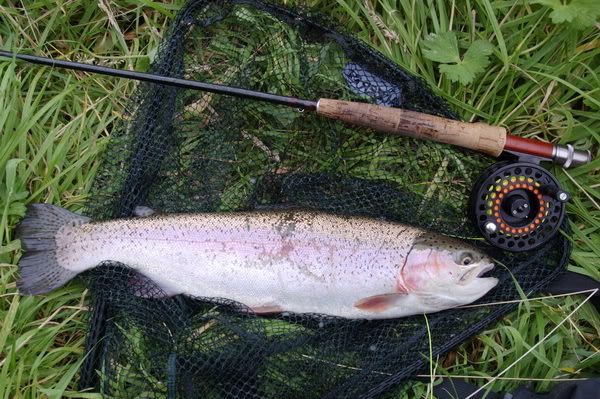 My largest rainbow of the day

There where plenty of fish moving around and sometimes they rose to pick up debris from the surface.
Still the water was so murky that most fish would probably not see the fly.
Later in the evening the water level seemed to be dropping and the clarity increased slightly.
The improved conditions did however not result in more takes.



Lots of fish – Lots of trees – lost of lost flies

Nr. three in our party Wiebe had done his best to catch a fish but he just could not manage to hook up.
In the intense heat and humidity it seemed that he was slowly evaporating.
What looked like a bad day turned out to be reasonable after all although I had preferred to fish in
the main river during clear water conditions.